"Listen to your Heart"
"Sizzix", Tim Holtz Alteration Tag Die
(click on pic for larger image)
Recipe below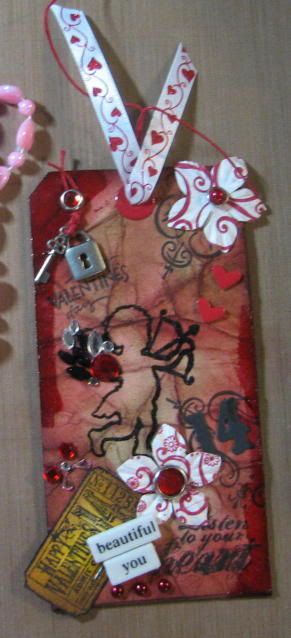 (click on pic for larger image)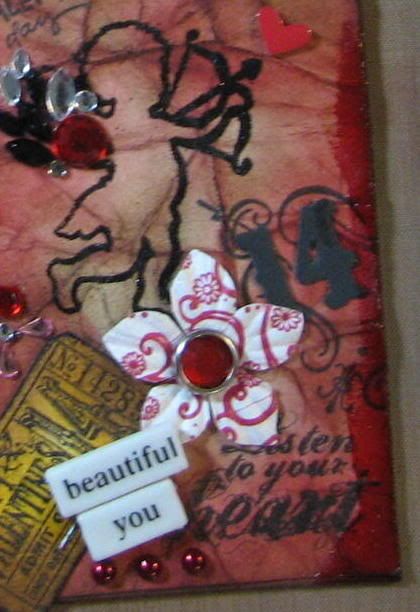 Recipe
Sizzix Tim Holtz Alterations Tag Die
Chip board, Manila Cardstock
Recollections - Gemstone Brads (Red)
WeRMemory Red wide eyelets
Prima mulberry Paper Flowers
Cherub- Clear Stamp
K&Co "handmade" Adhesive gems
Carft Essentials -metal charms
red hearts- colorbok metal accents
"14" Carnivale- Tim Hotlz Alteration Die
Stampers Anonymous -100th Collection- Valentine Ticket
Distressed Ink- Black Soot, Mustard Seed, Walnut
Embossing Powder-Rangers Tim Holtz- Rich red, Zing- Black
Wersamark Embossing Ink
"Beautiful You"- Embellies
Ribbon-Holiday Inspirations
"Listen to your heart"- Tim Holtz Stampers Anonymous Clear stamp
I was really happy...... (really thrilled)......to come across this dress form. (Yay.....I finally found one.....A year later....BUT...I found one...)....... I have seen many crafters that had them ....so of course I had to scout around for one. This dressform stands about 4.5' tall and is not too tall to stand on one of my workstations. I have not dressed it up yet...as I just got it yesterday...(Saturday)....I am going to use it to display my tags ...and hang my ribbon on it, I will also use it as a ribbon display and storage......I'll take pics of it from time to time as I fill it up.....I am going to look around first to see how others are displaying their ribbon ......But, I placed my first tag on it.....(hehe.....I know I'm going to love decorating this dressfrom....)TFL...