Okay, this is the first project I completed using Graphically Speaking(GS) and the New Embossing Folders, (Frills, and With Love). I am soooooo loving Graphically Speaking. Can you say "LOADED"....Yes it is. So far I have found that it has the scalloped and classic shaped circles, squares, and rectangles. So, if you have not purchased the nestabilities, but have Graphically Speaking, you can really save yourself some dough....(He.....He)....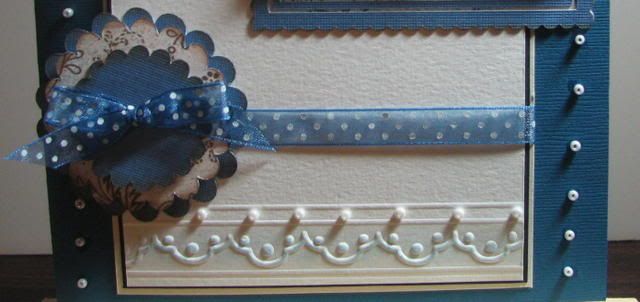 It took me forever to make this card because I was so overwhelmed with everything that was on the cart, I could not decide what shape to use first. Well, I used the Scalloped and Classic rectangle and the scalloped circle. I also did some research earlier in the week and discovered that 140 lb. ColdPress watercolour Paper works very well for embossing. The impressions are amazing and the paper gives so much depth. It costs a bit more than cardstock but the results are amazing.

Graphically Speaking Cartridge
Scallop Circle- 1- 3/4" and 2"
Scalloped Rectangle- shift- Icon-100% Pure @ 1- 3/4"
Icon Blackout @1-3/4"
Embossing Folders- With Love-"With Love" Strip
Frills
Carsons 140lb Cold Press Watercolor Paper
My Mind's Eye- Asparagus
Seed Beads
Ribbon