This month I am the guest designer on Jeannie Phillips
"Win A Free Card" Blog.
Jeannie creates beautiful cards .......so yeah........ I was totally honored when she asked me to be her quest designer for this month.....Go check out her blog and try to win the cards posted for this week. Here is the card that I created ......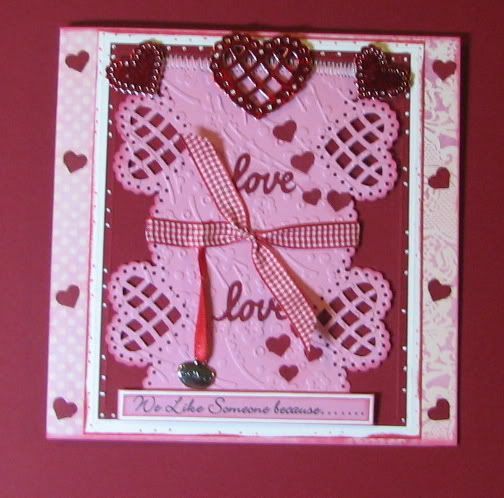 The inside sentiment says...." You Love Someone Although".......
Recipe - Valentines Card-"Love"- 6x6 card
Embossing Folder- Plum Blossoms- Asian Bundle
MS Lattice Heart Deep Edge Punch
MS- Small Single Heart Punch
Quickutz Metal adhesive
Gingham Ribbon
Metal embellishment
MS Scoreboard
Bazzill CS-Red
Canon-Coldpress – 140lb. Watercolour papetr-Mat
MS Love Heart punch- single Zigzag Machine stitch
Signo White gel pen
Rose- Colorbox chalk cateyes
Sentiment- Computer generated
Popdots
Red ribbon
K&Co- PP- card-"Smitten"