Wow....Almost done with all of the workstations in my scrapbook room.....I have one more table in my room to change out...But I need a few more IKEA Expedit 2x2's to complete that section......So..."maybe"...I'll get it done before 2011......If I can get to IKEA before then......
Here are a few Pics....I'll let you know what I did because it's a bit messy...and I'm doing a few projects.....
I did not use the IKEA EXPEDIT system on this wall. I purchased two 36"expresso cabinets and a kitchen cabinet top. I love the space. I purchased a flat screen to watch my tv shows...(Yeah....the lil ones took over the one in the living area) and I found a few display shelves/curios that seem to be working fine for my embellies....The display Curios are actually baseball and golf ball displays that were on clearance at Target. I found some super small mini clear paint buckets from M's and they fit perfectly in the curios. I'll have to get more. I got the Collectors card display from Joanns. It was 60% off-- so it was a pretty good price. It will work perfectly for my ATC's.
(click on pic for larger image)
I had a cabinet that I didn't need , I used the drawers, took the fronts off of them, painted them black and used them for storage. The one on this workstation stores my "Iamroses" collection. I had four of them...Two were taller than this and I am using one to store my punches. I've totally run out of wall space for my punches. Or I need to rearrage them anyway....because I have them in two places on my wall......I need to get them all in one place..........but..... not just yet.... I also added a butcher block so that I can use my heat gun for embossing without melting my mats......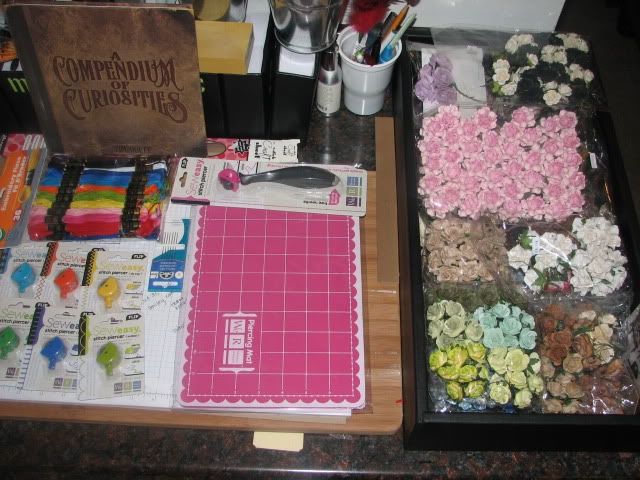 (click on pic for larger image)
I am using the under cabinet as storage right now....ahhhh because I have purchased more paper ....and have not had the opportunity to use it as much as I previously had...so it kind of got out of control again....So......... nowhere in my 5x5 or 2x4 for it to fit. I have one more area in my Scrapbook room that I am going to change over to Expedits -another 2x4 or a few 2x2's and I can use them for paper storage also....
(click on pic for larger image)
And a few more stacks....but these are my christmas/holiday stacks that I am presently using to create a few cards/gifts etc....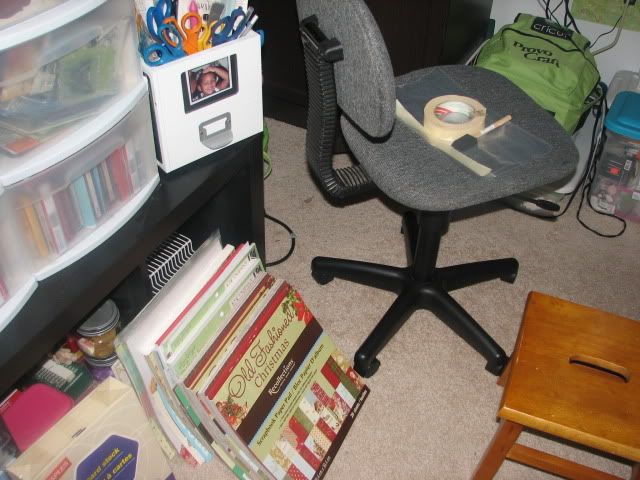 (click on pic for larger image)
Okay.....back to crafting...Now that I have spent most of the day reaaranging this space...maybe I can get a project in tonight before I call it quits........TFL everyone.....