I made this tag for the Tim times Ten grand giveaway challenge at
Stampin' Dymonz Scrap Shack
.
To honor their one year anniversary the Scrap Shack is having a Grand giveaway and also challenges(with great prizes to win everyday) up to the day of their anniversary....Check it out. The grand prize is a Sizzix Tim Holtz Vagabond. Awesome huh????? The grand prize will be given away May 8. You may want to stop by the blog to see how to win...Participating in the challenges may also be something you may want to participate in...It's going to help me get creative with all of my new Tim Holtz products.......
The first challenge was to create a "Nostalgic/Vintage tag using the paper tearing technique. Here is my take on the tag challenge.
Front of tag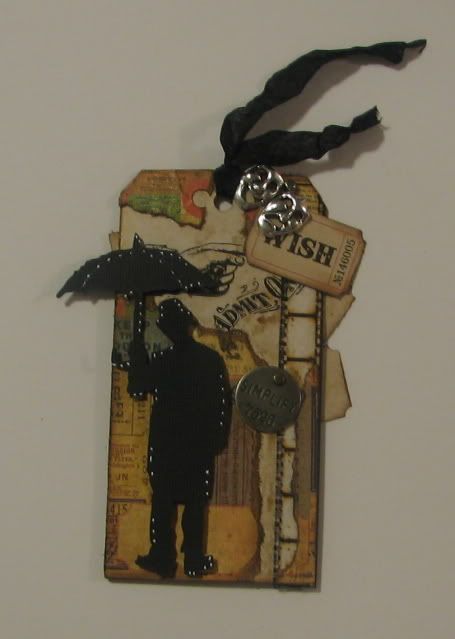 Back of tag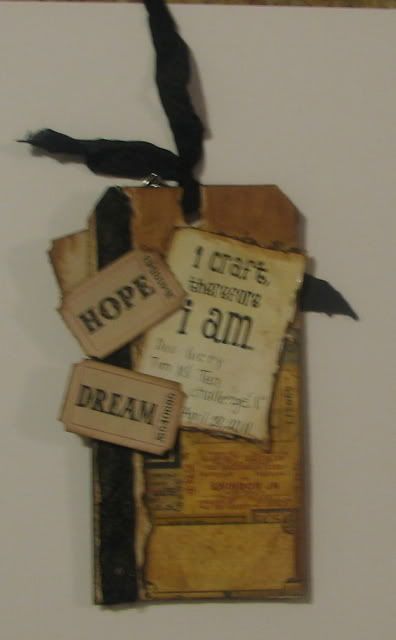 Recipe
Sizzix Tim Holtz Alteration Die "Umbrella Man"
Sizzix Tim Holtz Alteration Die- Tag
7GypsiesCamden Tag
Tim Holtz Muse tokens "Simplify 7526"
Stamper's Anonymous Tim Holtz -Steampunk CMS 107
Lindy's Stamp Gang- Glossamer Gold- Moon Shadow Mist
Tim Holtz Distressed Stain - Vintage Photo
Tim Holtz Filmstrip Ribbon
Blue Moon Metal charm- Happy/Sad face
Tim Holtz Adage tickets- "Wish, Hope, Dream
Torn Packaged card stock-
TPC Studio Stamp"I Craft Therefore I am"
Black wrinkled seam binding