Challenge #2....Yay...I am still ahead of my game....(I am so trying to just scrap some stuff just to keep my creative juices flowing...But........ some of the things that I am doing have a deadline......So...... now my personal challenge is to meet the deadlines...(hehe..)...this time I made it.... this challenge is Sposored by the Scrap Shack over at
Stampin' Dymonz Creative Place
, which is now a challenge blog...So if you want to have some Scrapbooking fun check out the ladies work....and I have to say...if nothing else...there is a whole lot of something going on....Something to do in every group.......It's loads of fun.......
This digi ("Say What") was sponsored by courtesy of
Tellen's Place Designs.
Isn't it a cutie...????? (hehe..)
Here is the challenge.....
Challenge Details:
1. Create an A2 sized card (4.25 x 5.5 inches) using this digi from Tellen's Place Designs.
After cutting the mats and putting it together ...I needed a background to lay it out ...soooooo...my card ended up being 6x6.....
2. Hand color digi using markers -- Copics, SU! Stampin' Write Markers, ProMarkers -- any marker sets you have/use.
3. Your card needs to be made using the following cardstock colors: Purple, Fuchsia/Magenta, and Black.
4. As part of the use of this image, it must be matted using all 3 cardstock colors.
5. You must also use cream colored lace ribbon on your project-
Okay I got a lil carried away and forgot the color....I actually sprayed the seam binding purple...My bad.....I got stuck on purple, fuchsia and magneta...(hehe..)
"
Say What".......(click pic for larger image)
Closeup view of digi image
Closeup view of digi (shoes)
Closeup view of digi- used Copic Multiliners to create pattern on dress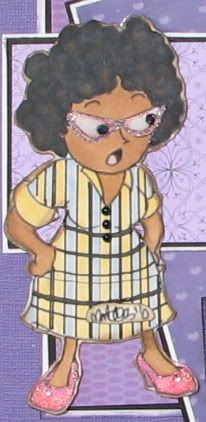 Mats, Gel pen design, embellies
Recipe
Coordinations Cardstock -Gemstones
Vellum- HOTP
Printed CS-?
SEI Printed CS
AC Black Cardstock
AC White CS
Copics- R43-
Hair-100- Black
E49-Dark Brown
110-Special Black
E-59- Walnut
E-34
YR31-Light Reddish Yellow
BG11-Moon White
0-Colorless Blender
Copic Multiliners set B-2
Purple/White Bakers Twine
Fushia Ribbon Binding (Sprayed and wrinkled dry)
Ka-Jinker Jems
Aluminum Gem dots
MFT Sentiment- Who needs therapy.........
White Signo pen
Clear accents- glasses
Pink Distressed stickles- glasses and shoes
Pink bling-shoes
Buttons on dress- Black bling