I was commissioned to alter 16 cigar boxes. Some had specific details that they wanted but for most many specified color. I am down to the last 6 boxes and decided to get these off of my plate before I got too far into the new year and a few of the ladies have waited patiently. After doing the first 10 or so ...I got bored with them.(I was making about three at a time).........and had to put the project aside...... I don't think I'll be doing anymore of these for a minute.....(hehe...)...Well, I'll see......
These are 3 of the last six boxes that I have to complete.....and boy am I happy..I'll probably complete the other 3 this upcoming weekend....I did not paint two of the boxes because I wanted to use the mahaghony/walnut look of the box as it was......For one of them I thought the deep dark wood gave it an elegant flair...I did paint one a soft lavendar and decoupaged it......the red box was also decoupaged but most of the maple wood look of the box was left the wood shade....... TFL....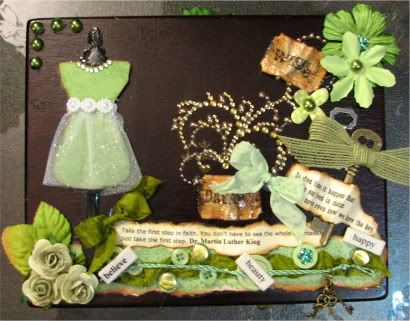 And the inside of the box....... I covered the inside of the box with Cardstock and made a pocket for cards, mats, notes and pics. I included bible verses in this one.....
I painted this box lavendar and decopauged with a DCWV Printed paper allowing most of the color of the box to show through.......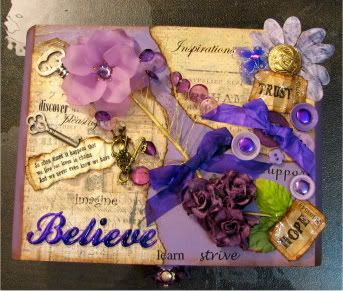 and this is the inside and the lid of the cigar box. I also made a pocket and included matted bible verses. I did not adhere the pocket to the lid....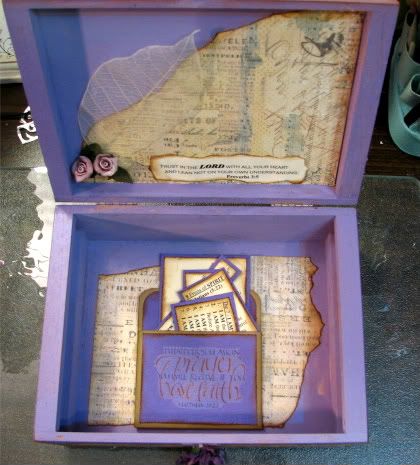 I also left this box the original wood tone and used fabric and printed paper to cover the box.
And the inside of the box was simply covered with Bazzill cardstock......