Thanks to all of you that participated in the drawing and Thanks to all that visited my blog. The winner of this drawing is
"Cakejunkie"
. My sister, after reviewing all of the comments, picked the winner. She liked cakejunkie comments for several reasons. She said by the time she finished reading all of the comments, she felt "upclose and personal" with "cakejunkie. Cakejunkie commented everyday, (to just about every post), since the start of this drawing. Cakejunkie gave an invite to her blog, (which is very nice and have some great projects posted) and even made a few of the projects that I have posted.
"Congratulations" Cakejunkie and Enjoy your new toy.
Again, Thank you everyone that stopped by and left comments. Feel free to visit anytime. I will be posting several projects from time to time and would love for you to visit to see the "Special Things" that I create....
And to my sister:
In appreciation for your time, for reviewing the comments and picking the winner, I would like to RAK you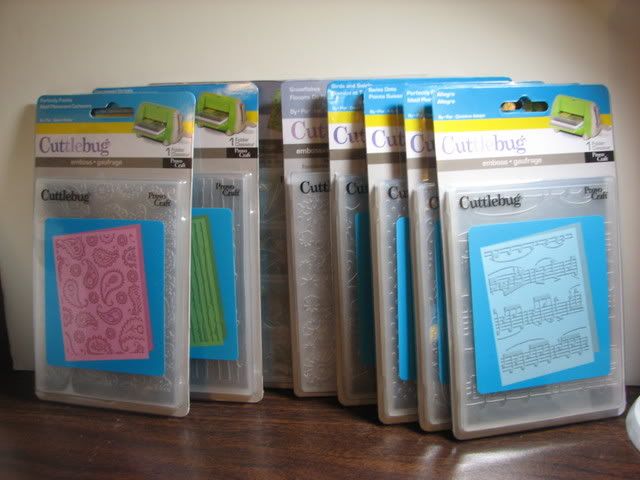 with a set of embossing folders. I turned my sister and a friend on to the cuttlebug and they immediately fell in love and went out and purchased it. I thought these folders would be a great addition to the lil' fella. Thank you for your time and "Enjoy".
This is some "Blog Candy" for leaving a comment on my Blog........I am celebrating "The Makings of
"Dee's Special Things"
Blog. My plan is to update it on a daily basis....but sometimes "
life
just gets in the way........But...... if you come to see my special things and leave a comment, I will enter your name in this drawing.......The Blog Candy is a
"Paper Gator"
and
You
can be the winner. Leave as few or as many comments as you'd like. Make one comment or several. Comment on several posts or as few as you'd like....The more comments you leave, the better your chances are of winning.....This drawing will run from now until midnight (EST)August 2. I will announce the winner by August 5, 2008. Enjoy and Thank you for visiting "
Dee's Special Things".....