I know, I know...It's been like "forever" since I last updated my blog....I have been a very busy camper......I have not been doing a lot of Scrapbooking....but I have been doing a lot of SB organizing....I purchased the remainder of the Ikea "EXPEDIT" storage shelves that I wanted and even , to my surprise" purchased a few "NEW" ones that they had. So, I think I have finally completed my room......I'll explain what I did from one pic to the next.....
1. I added 2 of these workstations.......and storage for my carts on this side of the room... I used 4-2x4's (laying on their sides) and the storage for the cartridges is a 1x5. The shelves on the wall are also IKEA LACK shelves. The second pic is a full view of both workstations , shelving and the Cart storage.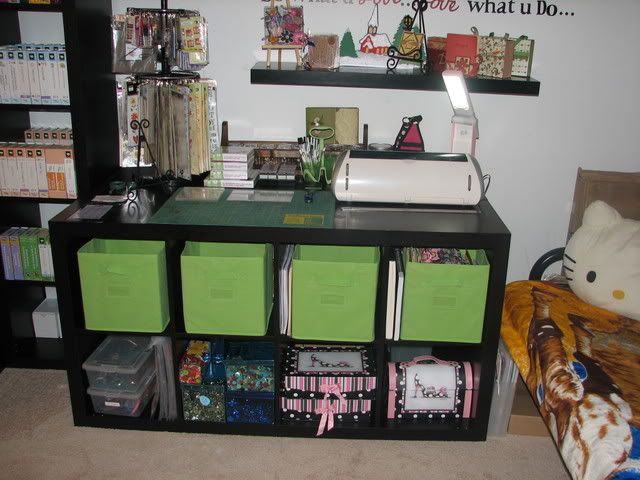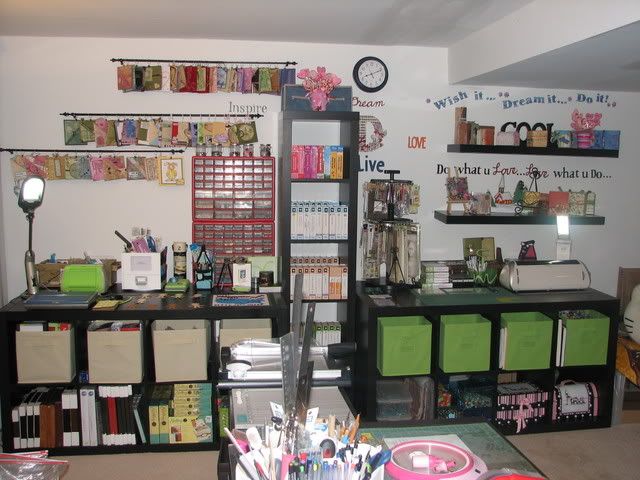 This is one of the original Expedits that I had...... but I did add 2 MM Embellishment Centers.....I placed them on top of the Expedits...My plan is to paint them black...I made the top of this Expedit my Flower Station.....
I connected this worstation to the original that I had. It is a 2x4 and a 2x2 sits in front of it. I am using this worstation as my cutting station. And another 2x2 on the other side that houses my sewing machine, BIA, vinyl, etc.
I did add 2 ITSO (Target) shelves to this worstation for added storage. It holds my glues, Homepro Setter with the Corner attachment to add my metal edges to cards and LO's. The green fabric baskets were also purchased at Target and are part of the ITSO collection. The second shelf( The one on the bottom) is shoe storage and I use them to store my acrylics, dimensional paints, etc.... This was my original workstation. My room evolved from this one workstation (2-2x4 Expedit Shelves). I did place a 2x2 Expedit Shelf at the end of it and it holds my Sewing machine and a few other tools.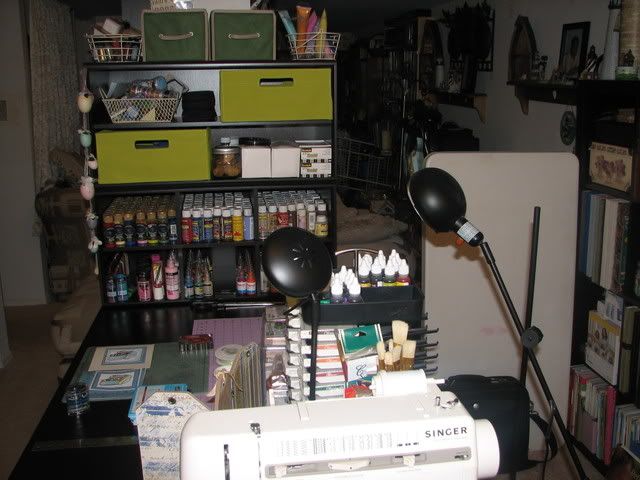 This tall shelf has stickles, glitter glue, Embossing Powders, Diamond dust, Fun flock, ink daubles, MS glitter and other misc accessories.....This is also an IKEA shelving system. It's called "Benno".....I originally purchased it to house my Cricut Cartridges but it was far to small......So, I repurposed it....