I am totally overjoyed receiving this award from Carol T....from
http://koalatkreations.blogspot.com/
...Carol, Thank you for your kind words and comments. I have to let you know that it really pleases me to receive this award from you ...especially since you are so creative, inspiring and full of knowledge. I love your creativity and will continue to look to you for inspiration. Keep doing what you do ....Your work is superb...... I love this MB. You ladies are the best.....(((Hugs)))......Y'all make me smile.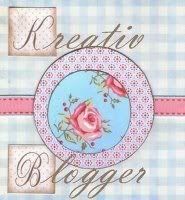 Here are the RULES for this AWARD:
(I just received this award....and will complete the posts and bog-hopping when I get home tonight)...Thanks again Carol...
)
1. Thank the person who nominated you for this award.
(completed)
2. Copy the logo and place it on your blog.
(completed)
3. Link to the person who nominated you for this award.
(completed)
4. Name 7 things about yourself that people might find interesting.
I scrap every weekend if I can.......
Everyone that is importatnt in my life....knows how important SBing is to me ....and supports it 100%.
I would buy a gift for someone before I try to make one and give- but everyone prefers my handmade gifts.
I started doing crafts when my son was not quite 1 year old- He's now 34.
I love Blog-hopping. It helps me to understand a persons style.
I have grown so much from so many inspiration and creativity on this MB.
I love this MB and I am here because the most relaxing thing for me is Scrapbooking.
5. Nominate 7 Kreativ Bloggers: http://magandamemories.blogspot.com/ Myrab http://liveitscrapit.blogspot.com/ -Nilla http://cropaholicscorner.blogspot.com/ - Cropgirl http://chocolatedrop1908designs.blogspot.com/ -Shonna Luten http://craftingwithsue.blogspot.com/ -Sue
6. Post links to the 7 blogs you nominate. (5 complete)
7. Leave a comment on each of the blogs, letting them know they have been nominated. (5 completed)

To follow the rules of this award, I am choosing the following blogs to receive this Award