Hey Ladies and gents....Want a chance to win all 11 "New" Cuttlebug Embossing Folders- Yes, the HSN Exclusive Offer. Then Check this blog out.
http://www.gluescissorspaper.blogspot.com/
It's new....under construction and ALMOST ready to take off......
For those of you who
sign up to follow our blog and leave a comment
between now and
August 31st
, we will include your name in a drawing for the new Cuttlebug embossing folders. Yes, you will win all 11 of the new embossing folders that were previously available on HSN! The winner will be announced on September 1st.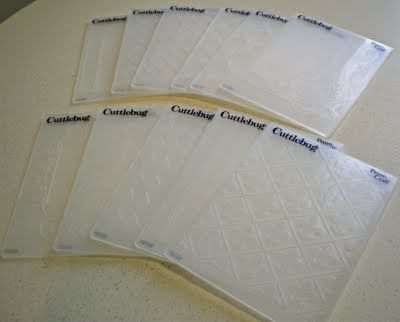 In addition, as part of our kick-off, we are having a contest for one of the new Cricut cartridges –
A Child's Year
. During the month of September everyone who posts their version of our weekly challenge will be entered into the drawing. We'll start the challenges back up the week that begins August 30th. Since we will have 4 challenges in September, you can enter the drawing up to 4 times!
On September 28th, we will draw one lucky winner!
We're looking forward to creating with you and can't wait to see what you come up with!