Okay...My bad...I WAS going to participate in the challenge going on at
Stampin' Dymonz Creative Space
and forgot to post in time....Sorry ladies.....It was still a pleasure to do....I can't believe I missed the 1st challenge ...but that's okay......But anywho, The challenge was to create a 12x12 layout, Tim Holtz style. Go check out the ladies projects....Very nicely done........ Challenge details, pic and recipe listed below.......
Challenge Details
1. Create a 12 x 12 scrapbook layout -- single page.
2. Your background must be made by you -- not decorative paper. Use stamps/inks/chalks/markers to embellish plain cardstock to be used as your 12 x 12 background/base.
3. It must include one 4 x 6 or 5 x 7 picture. Only one picture.
4.. It must include a tag, which has been created as the title for the page. The tag must be inked and distressed.
5.. You must incorporate at least four TH-style embellishments - glass blocks, memory frames, sprockets, etc. (These do not have to be TH brand name embellishments.)
6. You must include some fiber on the page.
7. Your theme must be "Travel.
(click on pic for larger image)
Metal Art tag- (made with Aluminum/Metal and Metal works tools and TH Grunge Alphas), Blue Coordinating Fiber collection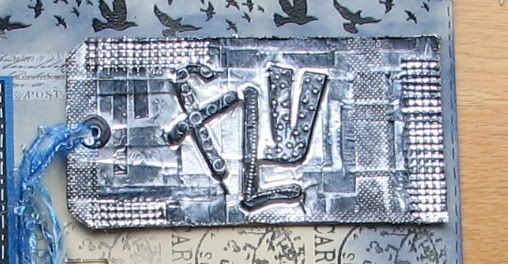 Background- TH Stamper's Anonymous Stamps , Distressed Inks (Chipped Sapphire)and Heat Embossing

TH stickers, Acrylic fragments, Embossing Folder, 7Gypsies game piece,picture turns, Stamper's Anonymous stamps, tissue tape

Black AC CS,Blue Coordinations CS, White Signo Gel Pen, Gears(Jewelry)
Recipe
""Fly" Tag- TH Sizzix Alteration Die-TH Grunge Alphabets-Self Adhesive Magic Mesh
1/4" Aluminum Foil tape-Hardware Duct Tape-Embossing/Ball Tool
Metal working Tools- Ten Second/Walnut Hollow Tools
AC Tan Cardstock- Background
TH Visual Artistry Stamper's Anonymous Collections-Playful Journey-Lost and Found- I See Paris
TH Chipped Sapphire Distressed Ink Pad
4x6 Photo Spot- Blue, Black Cardstock
TH Tissue Tape, 7 Gypsies Game piece- #1, Wing (Cut out)- TH Embossing Folder- Texture trades French Connection , Gears- M's Jewelry, TH Salvage Stickers - (tickets, fly tabs), Coordinating Blue Fiber on tag- "The Art's Life", Black Zigg Pen, White Signo Gel Pen, 7 Gypsies, Photo corners- Round "SOAR"
FLY TH Die -"FLY" -ENJOY- DYMO Label maker