Okay Ladies and Gents....This challenge made me dig deep (hehe...)....I thought about this challenge all day.....I've created plenty of acetate cards and tags and I have never second guessed myself like I did with this challenge.....I jotted down ideas throughout the day......and decided whatever the ideas..I would just take the instructions and go with it.........I almost could not plan what I would do...I could only think of the products I would use.......
Okay for
Challenge #7
@
Stampin' Dymonz Scrap Shack
we had to make an Acetate Tag. The acetate must be dry embossed and it must be inked. The tag must be two-layered, include an image, and you must use some type of "dimensional" product to embellish your image ...... (fun flock, flower soft, heat embossing, etc.) the tag should depict a cold scene -- could be winter or fall and does not have to include snowmen/snow, just ensure you make a good representation of colder weather. The acetate should be from some packaging that you may have at your craft spot in order that you recycle the plastic and help prevent us from killing our own planet with non-biodegradable materials such as plastic...
And here is my take on the challenge...Hope it depicts Fall chilly weather with a lil touch of snow....That's what it feels like in my neck of the woods today...It's almost Spring......... Feels like Fall.....and today you need scarf, gloves, hat, etc. like winter.....and looks like it's going to be like this the remainder of the week....... (sad face..)
Front view -Both Tags (click on pic for larger image)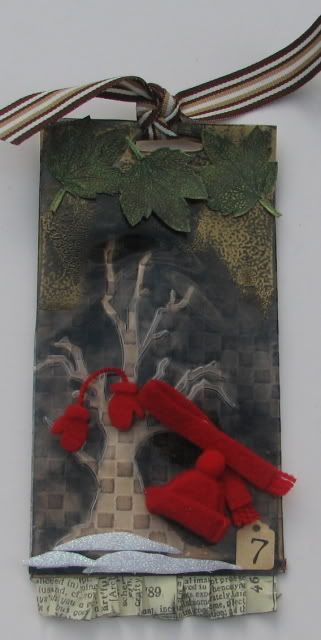 Front view - Top tag
I embossed the acetate using Tim Holtz Alteration Texture Fade-Branch Tree. I inked it ( did not ink the image of the tree) with StazOn Black Ink Pad.
Back Tag
I embossed the Manila folder and inked it with brown, yellow and blue inks
Top of Tag
I inked and cutout some leaves using MM clear stamp,I pop-dotted one of the leaves. I embossed the acetate with Gold Zin Embossing powder and sidtressed it with Black Stazon ink.
Bottom of both topTag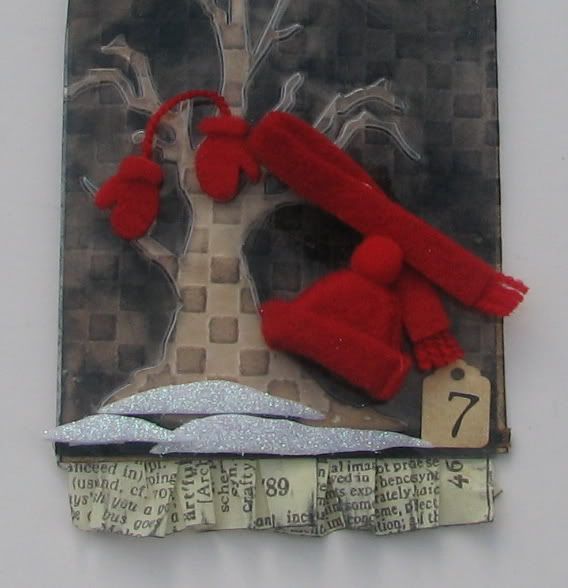 I added Jolee's Boutique dimensional stickers
Bottom of back Tag
I adhered Tim Holtz Paper Tape to the back of the tag using his ribbon technique. I adhered 1/8' ribbon to the bottom of the tag
Recipe
Tag-Acetate (Recycled packaging
Tag- Manila Cardstock
Tim Holtz Embossing folder-Branch Tree Texture fades
Tim Holtz Embossing Folder-Gridlocks Texture fades
MM Clear Stamp-Leaf
Jolee's Boutigue- snow, gloves, scarf and mittens
Zing Embossing Powder- Antigue Gold
Staz-On Jet Black Ink Pad
TH Distress Ink- Patterned Straw, Broken China
Brown Ink Pad -inked edges
Tim Holtz paper tape - ribbon
ribbon- Misc- brown/black