Okay...We are on the downhill crawl of this challenge @
Stampin' Dymonz Scrap Shack
. And it's loads of fun......I'm really loving the ideas and inspiration on this challenge......Okay...on to Tag #6.
Challenge #6 - M
ake a gift card holder tag. The gift card pocket must have at least 2 of it's corners punched with a corner punch. You must show in your picture the "card" in the pocket. The tag must contain at least 3
handmade
flowers (meaning no Primas or other pre-made flowers -- you must make the flowers yourself with paper/scissors/glue), a sentiment, and the background of the tag must be inked -- not covered with paper. You may use Color Wash or other spray type ink, or pull out your stamp pads and sponges. The inking technique for the tag background is your choice; however, the background
must
be created using only ink
Front View
(click on pic for larger image)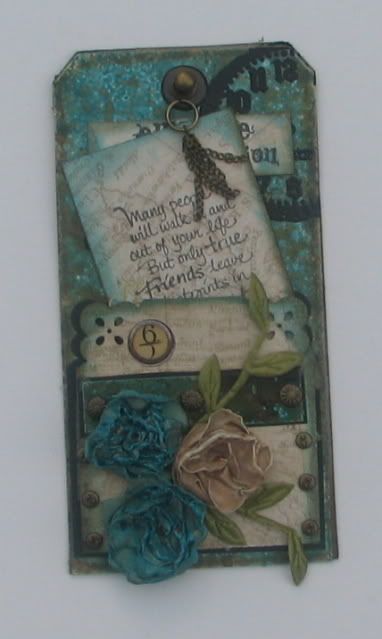 I used three tags to make this tag....The front side is Kodak paper. I inked it with TH broken china and sprayed it with Lindy Stamp Gang Gossamer Gold Moon Shadow Mist.....The middle is the Chipboard and the back is Manila paper....All were adhered to make the tag.....
Homemade Flowers
(made with synthetic silk and heat embossed)
Cut three or four layers of circles (Cut with scissors...they do not have to be perfecrt circles......One smaller than the next......Use a brad to hold the circles together. Heat emboss....and you have made a flower......
sentiment card- used cutting a piece of the same DCWV Tradewinds Collection stack that I used to make the pocket.........The card was inked using the same sponge I used to create the background of the tag......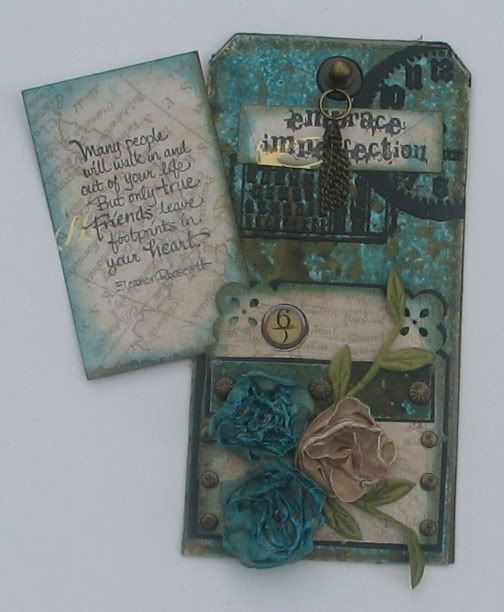 Recipe
Tim Holtz Tag and BookPlates Sizzix "Alteration Die
Kodak High Gloss Photopaper
kraft Chipboard
Black AC CS
Tim Holtz Distree Ink- Broken China
Lindy Stamp Gang- Moon Shadow Mist- Gossamer Gold
MS Corner Punch - Eyelet
Kelly Panacci- Clear Stamp- SandyLion- Time Flies- Embossed Clock
TH Cling Stamps- "embrace imperfections" and Tickets
Hampton Arts- stamp sentiment- "Many people ........
Metal brads- jewelry
ribbon-leaves
synthetic silk - homemade flowers
Black Utee embossing powder
TH tassle
TH hitch fastener