Okay....Halfway through the challenges @
Stampin' Dymonz Grand Giveaway
. (hehe...) Yesterday I forgot to link my project.....My bad...So I did that first.......So on to the challenge....
Challenge #5
- Cut a tag on the fold (card tag) and use 2 different color copics(or marker of choice)... on the image. I used Copics since I had them....You also had to use a mat distressed by sanding.
My image is a Vellum embossed butterfly x 2 for a 3D effect . I choose to color both images using a blending technique. I choose vellum because Copics move easily and blends perfectly on it. I used four different colors. 3 of the colors were in the same family (purple, violet and Blue violet and Cranium Yellow. The yellow merely lightens the darker colors). For the mat I used lightly sanded glassine paper because it gives the paper a great distressed look. I used TH Distressed stain (Wild Honey) on the glassine paper. The glassine paper gives a distressed look if crumbled. If sanded it shows deeper variations of the color used.(in this case TH Distressed stain-Wild Honey)
Front view of Tag
(click on pics for larger images)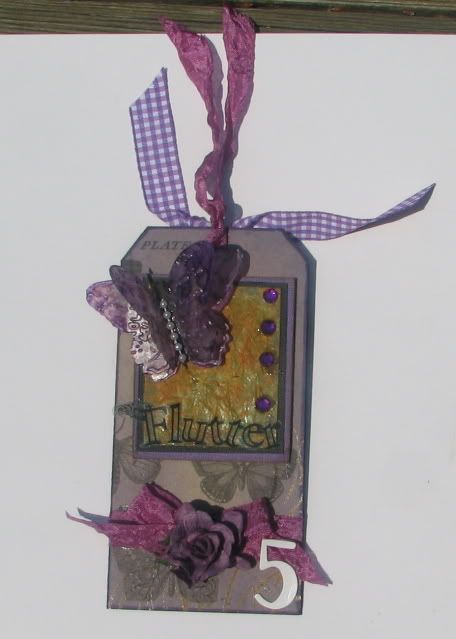 Image of vellum butterfly (colored with Copics)
Pic of Tag opened (mat inside using a distressed technique)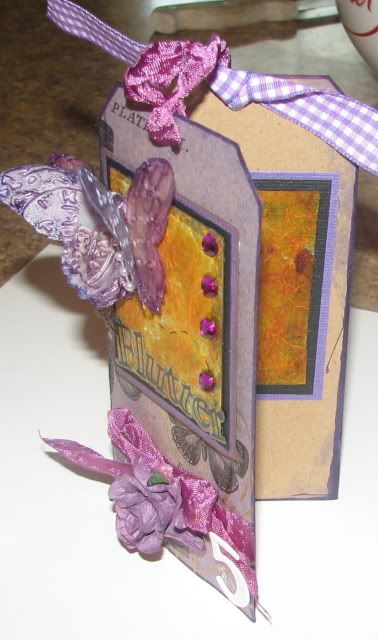 Recipe
Tag cut on the fold-
Tim Holtz Kraft Resist PaperStack
Glassine Paper - White
(Not TH paper- his is brown....but his Glassine distress technique)
Copics-BV08- Blue Violet
V09- Violet
BV01- Viola
BV02- Purple
YV15- Cranium Yellow
Color box Stickers- "Flutter"
Black AC Cardstock
Vellum
beads- misc
seam Binding -ribbon
Coordinations Cardstock-Purple
Pop dots
Iamroses- puple rose
gingham ribbon
purple bling
TH distress stain-wild honey
Provo Craft Combo butterflies
Thickers- #5