Whew...this was really a challenge. For me the challenge was not making the accordion tag....it was not even making the accordion tag a "Spring/Springbreak theme....My challenge was making the accordion Spring tag mini using Tim Holtz product....Incorporating Tim Holtz product is just my own personal challenge . I just want to see how much of his product I could actually use....so yes, I am challenging myself to use Tim Holtz for "every" challenge...I was okay the first few challenges......His product just kind of flowed naturally with what the challenge was......And then came ....Challenge #4....(hehe...)
Our challenge was to make a 4-paneled tag. .....We were also challenged to cut words and ink them......This was soooo much fun...I did not know which way I was going with this one.....But.....here it is.....TFL....Oops.... I forgot to place the link to the challenge site @
Stampin'Dymonz Scrap Shack
.
My Accordion Tag is a "Spring Couture" Mini....I purchased the DCWV "Lady Couture" stack a while back and vowed to use it.....Perfect timing for me....I was going in another direction earlier...but squashed that project ...and started this one..... I cutout "Spring Couture" using PC Don Juan- cut @ .5" and inked with White Joanns essential ink.
(Folded Accordion Tag) (Front panel)
Front view of Accordion Tag. The back panel has a tag with one of the ladies cutout and glued on the front side of the tag. The lady on the 3rd tag is also a cutout. But only adhered to the panel. I did not do anything to the second panel.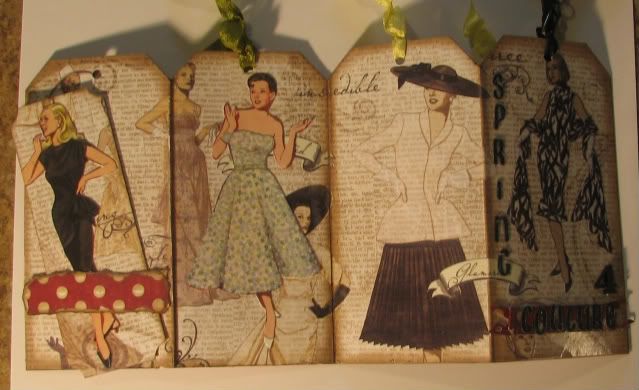 another view with flip side of tag
Back view of tag with the jornaling tags in place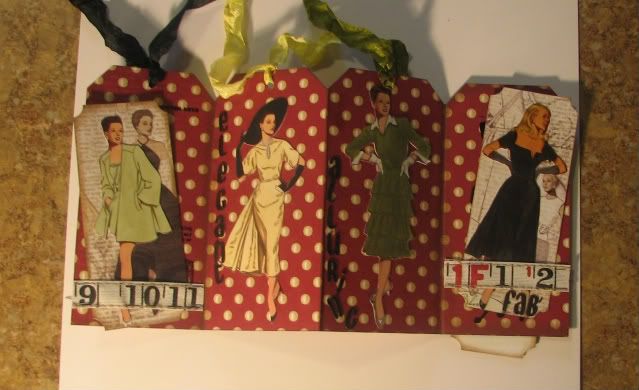 View of panels without the journaling tags. I embossed images of Tim Holtz Haberdashery stamps to the panels and used Tim Holtz ruler ribbon as inserts for the journaling tags.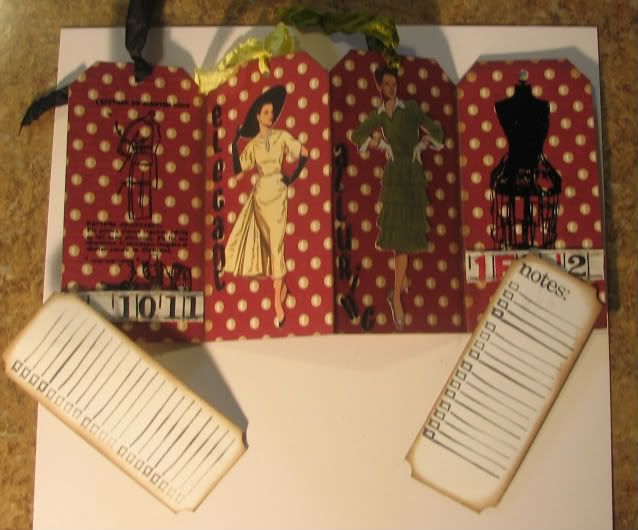 Recipe
DCWV Lady Couture Stack- Polka Dot/lady cutouts and front panel
Tim Holtz Haberdashery Cling Stamps
Black A laMode Embossing Powder
Tim Holtz Ruler Ribbon
Tim Holtz Facets
Seam Binding
We R Memory keeprs Stub corner punch
Tim Holtz Alpha Parts- Ransom- #4
Provocraft Don Juan- .5" fonts
Inkadinkado Note clear Stamps
Tim Holtz Swivel clasp