We finally made it to Challenge #10...and what a challenge it is.....Okay...We are at the end of this party..(Hehe)....Don't know about you but I had a great time with the challenges and really enjoyed all of the ladies creativity and inspiration.....
Check out
Stampin'Dymonz Scrap Shack
to see all of the fun we had. Today is the last challenge.....and this is my take on it......Good Luck every one who participated or is participating...I truly enjoyed....
Challenge #10-
make a "Brag Book" of the nine tags that you have created over the last nine days. It can be bound by rings or by using a Cinch or BIA or other wire binding device. The tags must be in the Brag Book in the order in which they were created over the nine days. There must be a way in which you display/provide the recipe for each tag. You must have at least one cut from a die-cutting device -- Cricut, Cuttlebug, MS Punch, etc. -- whichever one you use doesn't matter. You must create a cover.The cover must have a sentiment
and
an image stamp and the acrylic paint resist technique
Front Cover of 6x6 Brag Book Mini
(click pic for larger image)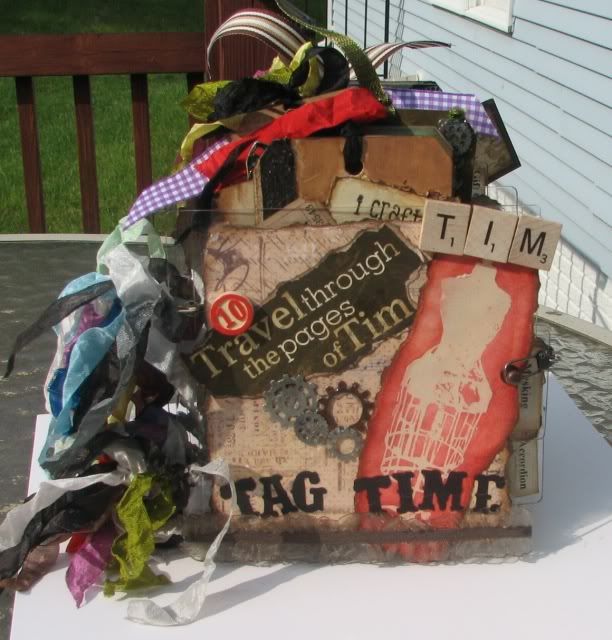 6x6 Acrylic "Brag Book" Mini using My Word. Acrylic 6x6 Tabbed Mini Album, K& Company DS, PP, "Tag Time"-Tim Holtz Alterations Die-Carnivale,Big Shot. , - Acrylic Paint Resist Technique- Manila Paper, Almond Acrylic Paint,Baby Wipe, TH Distressed Ink- Brick Red, TH Stamper's Anonymous - Haberdashery- Stamp- DressForm , "Travel through the pages of Tim- BoBunny Timepieces Collection, "Tim" Wooden letters, TH- Gam Piece- #10
Tag#1
Each Flip Pocket Tab was handmade using Black AC CS and K&Company DS PP with the Paper tearing technique. Each pocket tab is numbered using Sticko stickers- Typeset. A computer generated tag of the name of the challenge was placed on each Acrylic Page Tab except for #1. "Nostalgic. It is the inside of the cover page. Nostalgic was placed on the pocket tab.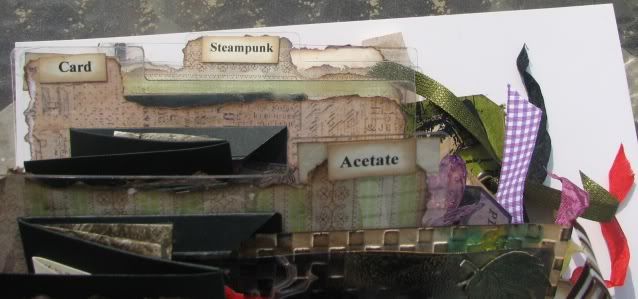 Each Pocket tab has a gusset on either side to allow for the dimension of the tags. The gusset was made using Tyvek and sprayed with Walnut Ranger Ink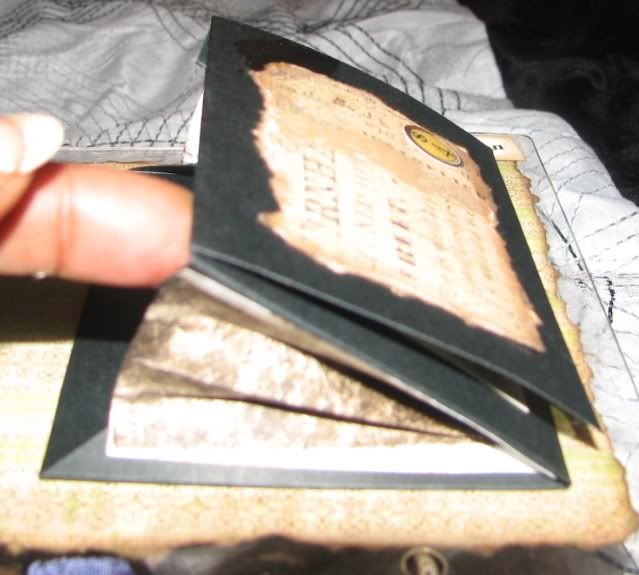 Challenge and Recipe (Inside Flap of Pocket tab)
Tag #2
Tag #3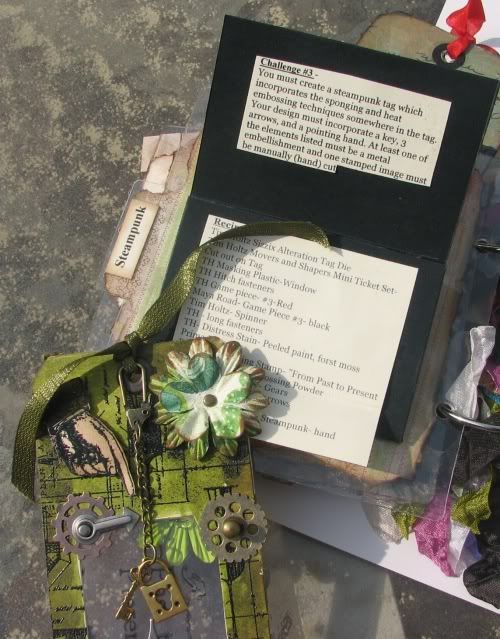 Tag#4
Tag #5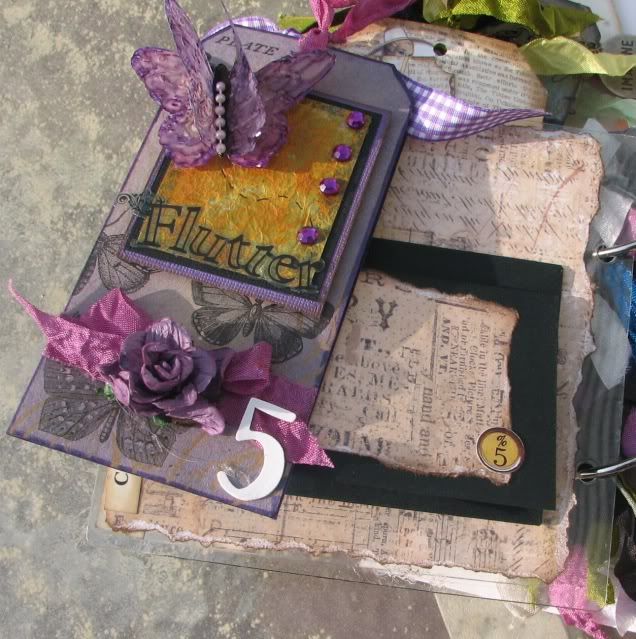 Tag #6
Tag #7
Tag #8
Tag #9
Tha last page of my Brag book (inside cover) contains a lil story of the Challenge and sponsor, instructions for Challenge #10 and the Recipe for the Book and Cover.